07/26/2016 / By resistnews
---
Actress and devoted Bernie Sanders supporter Susan Sarandon was spotted holding an anti-Trans-Pacific Partnership (TPP) sign on the floor of the Democratic National Convention on Monday evening.
(Article by Jerome Hudson)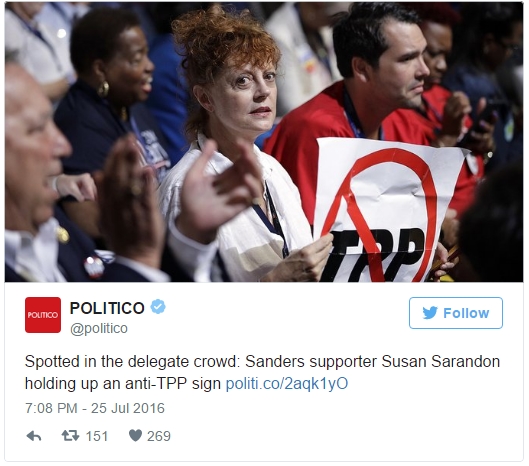 Ian Mckenna of NowThis News tweeted; Susan Sarandon is having literally the worst time at the #DemConvention," showing a picture of the star attending the convention looking disinterested.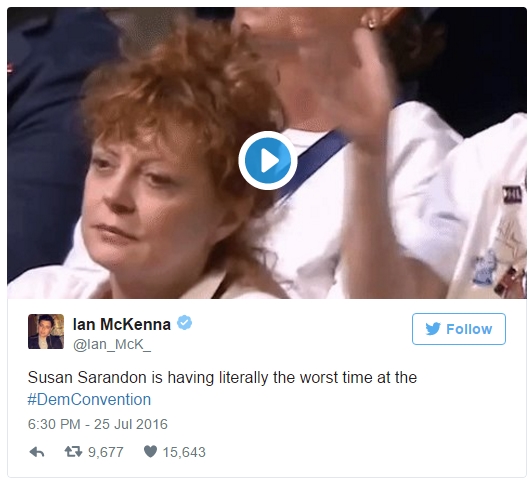 Sarandon replied to Mckenna on Monday evening, tweeting; Accurate

On Sunday, Sarandon joined hundreds of avid Sanders devotees at a rally in the Germantown neighborhood of Philadelphia
During the rally, the Oscar-winning actress told The Young Turks that the purpose of the event was to show their fellow Democrats that progressive Sanders supporters are "still here," and that "Bernie has ignited a spark and we're not letting that go."
Fed up with the thousands of recently leaked DNC emails, the actress called the situation "disgusting."
"Nixon resigned when they broke into the headquarters," Sarandon said. "And now you find all this tampering going on, and I know there are lawsuits and things. I think we really have to ask what's happened to us, in terms of what we're willing to sacrifice to get our person in. What does it really say about us if this goes by unattended?"
Sarandon was one of the earliest Hollywood political players to pledge support for Sanders's presidential campaign, hitting the trail often for the former presidential candidate.
Read more at: breitbart.com